Special Projects
Shaping metal into the objects you need for your business is our specialty. When it comes to custom metal parts, we understand that one size does not fit all. That's why we offer 3D modeling services to bring your vision to life.
Our team of experts uses the latest technology to create a three-dimensional model of your desired product. This allows you to see how the final product will look and function before we start production.
3D modeling is especially beneficial for complex or intricate designs. It also allows for a more efficient manufacturing process, which saves you time and money. Since we already have a detailed model of your product, we can quickly and accurately create the metal parts you need.
If you're not sure if 3D modeling is right for your project, our team can help you determine the best course of action. We will take into consideration the complexity of your metal project design, the type of metal you're using, and your budget.
What Special Tasks We Provide for Your Custom Metal Parts
No matter what your project entails, we are here to help. We offer a variety of services to create the custom metal parts you need. Here are a few of the most popular tasks we provide:
Stamping: From simple to complex shapes, we can stamp your metal parts with precision. During the stamping process, a die and punch are used to create the desired shape.

Waterjet Cutting: We use high-pressure water jets to cut through metals of all thicknesses. This is a great option for complex designs or tight tolerances. Your parts will have a clean, finished edge.

Laser Cutting: A laser cutter uses a high-powered laser to cut through metal. This is a precise method that can produce complex shapes. And, there is very little waste associated with laser cutting.

Shearing: We use shears to cut metal sheets and plates into the desired shape. This is a fast and economical way to create parts with simple designs.

Punching: We use punches and dies to create holes or other shapes in metal sheets. This is a versatile method that can be used for a variety of applications.

Milling: We use milling machines to remove material from metal parts. This is a great way to create complex shapes or achieve a precise finish.

Bending: We use Press brakes to bend metal sheets and plates into the desired shape. This is a common method for creating parts with 90-degree angles.
What to Consider Before Choosing a Metal Fabrication Shop for Your Special Projects
When you're starting a new project, it's important to find a metal fabrication shop that can turn your ideas into reality. The right partner will have the experience, expertise, and capabilities to bring your project to life — whether it's a small-scale prototype or a large-scale production run.
There are a lot of factors to consider when looking for a metal fabrication shop. To help you make the best decision for your project, we've put together a list of some important factors to keep in mind:
1. Services Offered
The first thing you'll want to consider is the range of services offered by the metal fabrication shop. Can they handle the entire scope of your project, from design to delivery? Do they offer value-added services like assembly or packaging?
2. Capabilities
Next, you'll want to consider the shop's capabilities. What type of equipment do they have? What are their production capabilities? Are they able to scale up or down to meet your needs?
3. Quality
Of course, you'll also want to consider the shop's commitment to quality. What kind of quality control procedures do they have in place? Do they have experience meeting the stringent requirements of industries like aerospace or medical device manufacturing?
4. Delivery Timeframe
When you're planning a project, it's important to have a realistic timeline for delivery. The metal fabrication shop you choose should be able to provide you with a detailed schedule and meet your deadline.
5. Pricing
Cost is always an important consideration when choosing a vendor. But it's especially important when you're working on a special project with a tight budget. Make sure you get a few quotes and compare them before making your decision.
6. Location
Depending on your project, you may need to consider the shop's location. If you're looking for quick turnaround times, it may be best to choose a shop that's close to your facility. But if you're looking for the best price, you may be able to find a more distant shop that can meet your needs.
7. References
Finally, you'll want to ask for references from the shops you're considering. Talk to other businesses that have worked with the shops on similar projects. Get their feedback on the quality of the work, the delivery timeframe, and the overall experience.
Choosing a metal fabrication shop is an important decision. But if you keep these seven factors in mind, you can be confident you're making the best choice for your project.
That's where ABT Metals Manufacturing comes in. We specialize in custom metal fabrication, and we're here to help you with your next project. 
No matter what you need, we can fabricate it. We offer a variety of services, including stamping, waterjet cutting, laser cutting, shearing, punching, milling, and bending. And our state-of-the-art facilities allow us to handle projects of any size, from small prototypes to large production runs. 
If you have a special project that you are unsure where you can get it shaped into metal, ABT Metals can do it. We have numerous different types of metal cutting and forming tools that are capable of doing many different types of projects. Our arsenal of machinery allows us to create almost anything you can imagine.
We do not only do high-volume production jobs for our customers. We can help if you would like to have any small projects done. Even if the job consists of only creating one unit we can help you. Bring in your ideas or rough prototypes and we will see what we can come up with together.
Our equipment
Our facility has the machinery required to produce any type of part that you desire. If you would like to create a prototype for production, just one part, or a uniquely shaped part, we can help you with the process. We have an arsenal of metal forming equipment that we use to get any special project done. Some of the machinery we have can perform tasks such as stamping, waterjet cutting, laser cutting, shearing, punching, milling, and bending just to name a few. If you have a unique design that you need to be made into a part, we can use our extensive list of equipment to get the job done.
Our Design Process
If you need help with the design process of a prototype or a part you would like to manufacture, we can help you create both. Our skilled professionals have years of experience working with 3D modeling software. We can have a special project designed and manufactured right at our facility.
Do you have a unique or special project? We are often asked to assist with designing and/or building things you just can't find. When required, our skilled drafters can produce three-dimensional models using Inventor 3D modeling software. ABT Metals can help take your idea from concept to finished product.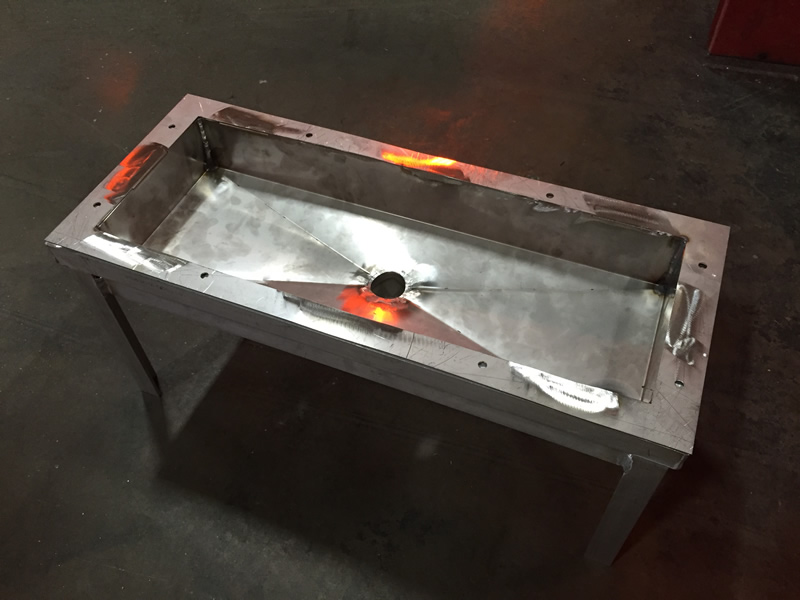 Why Choose ABT Metals Manufacturing?
When you partner with us, you can be confident that you're working with the best in the business. We have over 50 years of experience shaping metal into custom parts. And, we use the latest technology and equipment to get the job done right.
We are a one-stop-shop for all your metal fabrication needs. We offer a wide range of services, from design and engineering to prototyping and production. And, we can work with any type of metal, including aluminum, stainless steel, and carbon steel.
If you're ready to get started on your next project, contact us today. We will be happy to provide a free quote.